Despite the complicated situation in which the whole world finds itself due to the coronavirus crisis, Basqvium continues to make its way around the world. Recently we have started collaborating with the Philippine Chef Reggie Aspiras.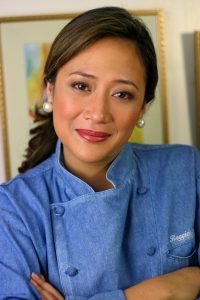 Chef Aspiras, began cooking at the age of 6 and she decided to be formed in Europe. After running a restaurant, she realized that what she really loved was passing on her culinary knowledge to others, so she founded the Reggie Aspiras School of Culinary Arts in 1991. 
The Chef has an expansive culinary repertoire that ranges from classical / continental, Asian and dietary cuisine. She is also a food writer & stylist, restaurant and catering consultant, brand & product consultant, chocolate & confectionery artist, gourmet  food caterer, cake designer, and a specialized instructor in the culinary arts. 
After several books published, her activity in her blog and her undeniable presence in social networks, now, in love with the Basque culture and gastronomy, Chef Reggie Aspiras collaborates with Basqvium sharing with her followers traditional dishes and recipes of the Basque Country. 
Every week she includes new content on her social networks, where these "exotic" and innovative recipes can be found for her followers, who are looking, above all, to bring the Basque Country not only to the Philippines, but also to Asia. This is just a small part of her plan to come to the Basque Country to record for her program "Kitchens of the World".