Dudi Audeus – SINGAPORE TATLER – July 20, 2020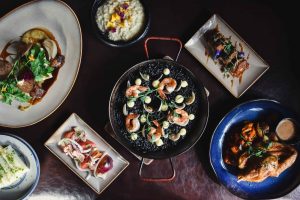 The multi-concept F&B space is now home to Una, a restaurant dedicated to Basque and Spanish gastronomy
The Basque Country, which straddles the border between northern Spain and France, is a gourmand's dream destination for good reason. Its third biggest city, San Sebastian, is home to the most number of Michelin-starred restaurants per capita in the world. It's also worth noting that the independent nation has gifted the world with delectable dishes—some of the more popular ones are the quintessential pintxos (tapas), txuleta (steak), and, of course, the world-famous Basque burnt cheesecake.
While the current pandemic makes it impossible to visit this food mecca, you don't need to fly all the way there for an authentic dining experience. Right here in Singapore is the refurbished The Alkaff Mansion, home to Una restaurant serving inspired Basque and Spanish fare.
You'll be able to enjoy the delicious offerings in the al fresco area, a well-ventilated garden conservatory surrounded by lush greenery, as well as inside the main dining room.
Ensuring the dishes stay true to the spirit of Basque cuisine, the restaurant has partnered with Basqvium, an organisation that advocates Basque cuisine and culture outside Spain. The restaurant has the Spanish Cuisine Development team made up of Basque chefs, who work closely with head chef Tom Kung to whip up signature Basque dishes and other Spanish favourites.
Immerse yourself in its vibrant culture, starting with unique Spanish wines (some of which you can only find here) and innovative tipples. The Tinto de Pintxos—concocted with red wine, pisco and sweet vermouth—is the perfect sundowner and is a great complement to the robust flavours of the cuisine.