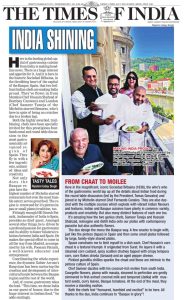 Here in the leading global capital of gastronomy, cuisine from India is making hadline news. There is a huge interest and appetite for it. And it is here in the historic Sociedad Bilbaina, in the throbbing heart of the capital of the Basque, Spain, that two brilliant Indian chefs are making India proud. They've flown in from Mumbai (Chef Hussain Shahzad of Bombay Canteen) and London (Chef Sameer Taneja of the Michelin-Starred Benares, who's here in spite of being on crutches due to a broken leg).
Both the highly awarded, trail-blazing chefs have been specially invited for this prestigious four-hands-meal and round table discusion to the most gastronomically avanced region of Spain. They fly in with a few ingredients, unlimited ideas and creativity.
Not only does the Baque region have the highest number of Michelin-starred restaurants but even the most humble eatery serves great food. The region is renowned for it's pintxo (tapas or small plates) tradition, too.
Fittingly enough HE Dinesh Patnaik, Ambassador of India to Spain, presides as chief guest. Amongst several other things, he is driven by a profound passion for gastronomy and its ability to foster bilateral relations between India and Spain. He makes the special effort to come in all the way from Madrid, accompanied by his wife, Poonam Patnaik, a well-known educator and entrepreneur.
Coordinating the whole experience, the dynamic Xabier Arruza's Basqvium has been nurturing the creation and development of intercultural bonds between the Basque region and the rest of the world.
And of course, gastronomy takes the lead. «This time, we chose India as our guest of honor, due to the huge interest in Indian food» he adds smilingly.
FROM CHAAT TO MOILEE
here In the magniflcent, iconic Sociedad Bilbaina (1836), the who's who of the gastronomic world lap up ali the details about lndian food during the round table discussion (led by the President, Tomas Gonzalez) and Joined in by Michelin-starred Chef Femando Canales. They are also daz­zled with the multiple courses which explode with vibrant lndian flavours and textures. lndian and Basque cuisines have plenty in common: variety, products and creativity. But also many distinct features of each one too.
lt's amazing how the two genius chefs, Sameer Taneja and Hussain Shahzad, reimagine and distill lndia onto our plates with contemporary panache but also authentic flavors.
The duo design the menu the Basque way. A few snacks to begin with, Just like the pintxos (tapas) in Spain and then some small plates followed by large, family-style shared plates.
Space constrains me to limit myself to a dish each. Chef Hussain's corn chaal is a textural triumph. lt originated from Surat. He layers it with a steamed corn custard, spicy scallion chutney topped with crispy tempura corn, corn flakes chivda (farsaan) and an aged pepper cheese.
Plckled guindilla chillies sparkle the chaat and these are intrinsic to the pintxos culture of Spain.
Chef Sameer dazzles with his coconut-rich mollee from south India. Courgette flowers, plump wlth masala, steamed to perfection are gently simmered in first-extract coconut milk and tempered (tadka} with mus­tard seeds, curry leaves, Basque tomatoes. At the end of the meal, they receive a standing ovation.
Both the chefs feel «honoured, humbled and excited» to be here. AII thanks to the duo, India continues to «Basque in glory»!